This blog is the story of our very special husky mix Takoda and her new three-legged life.
Takoda was diagnosed with bone cancer at 8 years old on July 19, 2010. Her back right leg was amputated on July 22, 2010. The whole story about that is here>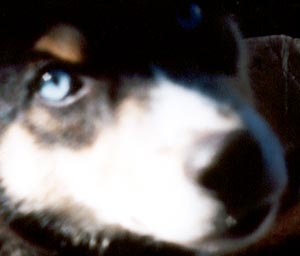 Takoda came into our lives in September of 2002. We met our first dog, a German Shepherd mix pup named Vegas, in June of the same year. I had waited a long, long time for a dog of my own. When I finally got one I fell hard for the dog and the whole doggie lifestyle … I was pretty sure we needed another one quick. A girl this time. Maybe a husky or a shepherd mix. I searched local shelters and Petfinder.org for a few months. There were so many beautiful dogs that needed homes. I found Takoda, who was listed as a 3-month-old Husky/Shepherd mix named Serena because she was so calm. She was at a small shelter an hour away. (As it turned out, she was probably not a shepherd mix, more like 5-6 months old, and she didn't stay calm for long!). There wasn't even a photo uploaded yet, but I knew somehow that she was the one. We met her and it was love at first sight.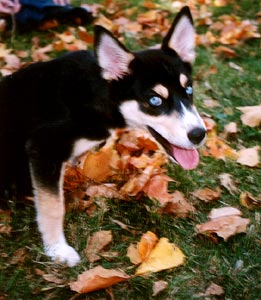 Takoda had a rough start. She was a tiny,tiny, skinny and malnourished little pup. Not much bigger than her new dad's work boot. Her baby teeth were nearly clear rather than white and some of them were broken. Her little baby footpads were already rough and worn. She'd been abused by her previous owner who chained her outside to "guard the house" while a "pet" dog lived indoors. She'd been left outside without food, water or shelter with a broken leg due to a kick from a human. Thankfully a neighbor witnessed the abuse and neglect and reported it to the police who took Takoda away.
One week after she'd arrived at the shelter we arrived to take her home. Takoda had a splint on her leg and I immediately had to make a vet appointment to have it adjusted since she was a growing puppy. When I explained the situation to the vet we'd been using, he expressed disgust and asked me "why would you adopt a dog with a broken leg when there are so many healthy dogs available?" I quickly changed vets. I have fortunately never come across this attitude again within the pet industry. Every dog deserves a second chance!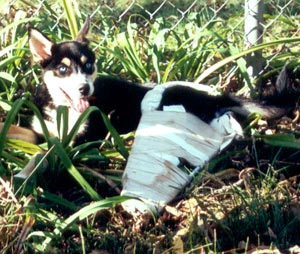 Takoda wasn't sure about Vegas at first but they soon adored each other. She wasn't sure about toys either, the indoors, or an endless supply of food and treats (which she cautiously buried in blankets for safekeeping) but she learned quickly. She loved people despite her past treatment. She loved life!
Despite the fact that Takoda's broken leg wasn't ideally fixed, it healed surprisingly well. Still, the vet said she would always have a limp. She also said she would probably never weigh more than 30 pounds. Takoda's leg had atrophied and she had to learn to use it again. It was much tougher than what we've gone through with her amputation. The back leg that she still has is the one that was once broken. Once she regained use of her leg she never limped again. She became a very athletic runner. She grew up to weigh around 47 pounds. We have biked and hiked together for miles and miles. All the cards were stacked against but she overcame everything!
View photos of Takoda and our adventures>
Takoda's YouTube channel>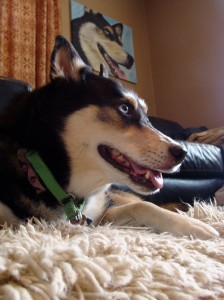 Well I've been kicked around
Whatd'ya see
Am I alright?
I'm alright
I once had a heart
I was ripped from it
Chewed up then spat out
Like a cherry pit
I once had a soul
It was torn from me
I won't cry a tear
I will carry me
And if I seem a little hard
It's just that I've been kicked around
I don't know how I got this far
The way that I've been kicked around
Don't worry
I'm alright

–Mark Oliver Everett (eels) "I've been kicked around"