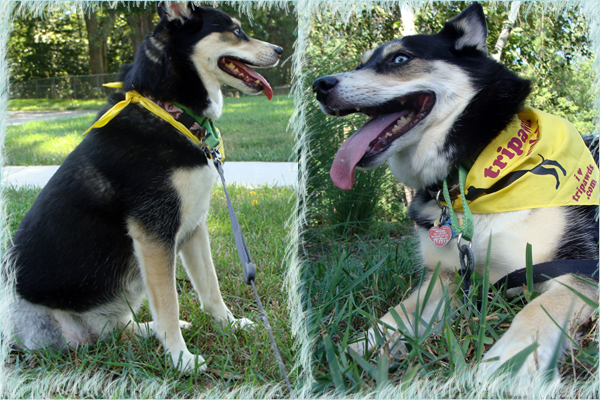 This chapter of our life together began one Thursday morning when Takoda suddenly began limping. Saturday morning the limp had not subsided, and we took her to the vet. The vet mentioned a few possible causes, worse case scenario being cancer. While the vet took Takoda in back for x-rays, we (Takoda's human pawrents) looked at each other in disbelief. Cancer? We wondered why the vet had even mentioned the word. Days before, Takoda was a healthy, happy husky who depended on adequate exercise and entertainment to retain her sanity and ours. Takoda was easing into middle-age as she had just reached her 8th birthday.  But as a 47-pound mixed breed I thought for sure hybrid vigor and her medium size would guarantee her a long, healthy life. I pictured her running and playing her way into her mid-teens. I couldn't picture my life without her and I still can't.
Takoda returned, smiling happily and pulling the vet along despite her gimpy back leg. The vet told us she had good news. It wasn't cancer. We breathed a sigh of relief and let go of the panic-inducing thoughts that had entered our minds. We still wondered why she'd even put the grim  idea into our worried heads. From the x-ray and the way that Takoda was "toe-tapping", the vet was sure that Takoda had a partial ACL tear. While annoying and expensive, an ACL tear is a common and treatable injury that will heal with surgery or adequate rest and restriction. The vet prescribed anti-inflammatory drugs and said that she'd probably be better within the week, but that the injury would most likely return and we should consider surgery sometime in the future.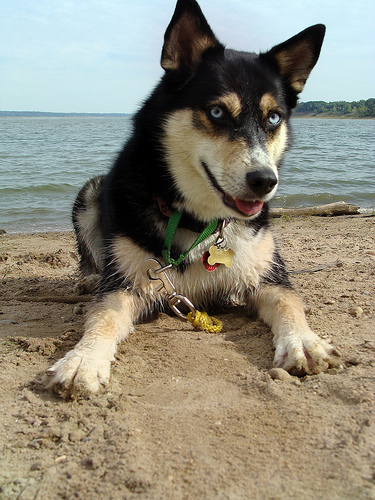 Within a few days she was back to her hyper, stubborn, and very sweet self. Despite the fact that she had stopped limping, we kept her restricted to a leash while outside, kept her exercise to a minimum (hard!!) and discouraged her from jumping on and off of furniture in an attempt to allow the ligament to heal. I became very knowledgeable of canine ligament injuries with the help of some very informative websites, especially Tiggerpoz.com and Conservative Management Yahoo group. I remain a huge fan of these sites, if your dog has a ligament injury check them out.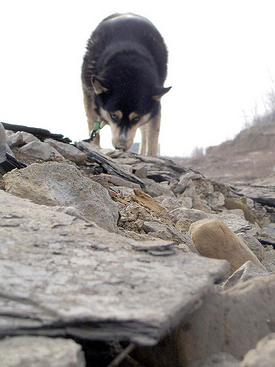 For nearly a month Takoda rarely limped or expressed any discomfort. It appeared that she was on the road to a full recovery without the need for an expensive and possibly risky knee surgery. Then one day she suddenly started limping again only this time it seemed a bit worse. Re-injury is quite common with ACL injuries so we assumed that is what happened. At this point we really cracked down on not allowing her to jump or do stairs, we moved our bed mattress to the floor, covered slippery floors with rugs, anything we could think of to help Takoda heal. We decided to give it a few more weeks and if she wasn't improving we would schedule her for surgery.
Over the next few weeks Takoda got worse instead of better. She stopped using her right back leg at all, and held her leg up consistently. Occasionally it appeared that even sitting was painful. Through this time we had it tough trying to restrict Takoda's activity, but now she was beginning to restrict herself. We made a vet appointment for a re-check intending to schedule surgery ASAP. This time saw another vet at the same practice. This vet agreed with the original vet's diagnosis, though he seemed surprised by how painful it appeared that her knee had become. ACL surgery was scheduled for the next Monday.
We dropped Takoda off for surgery at 7:30 July 19, 2010. That morning I posted on my Facebook page, "How empty does your house feel when you're missing a dog? My husky mix Takoda is at the vet for ACL surgery today. I am trying to pass the time & wait for 4:30 when she can come home. Can't wait until she can return to her active, stubborn husky self!"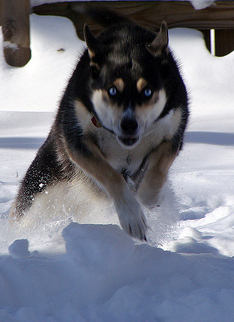 I was told I could call after noon to check on her. It was just about that time when I got a call from the vet. My heart raced when I heard his voice. He sounded distraught and apprehensive. I could barely respond as the vet explained that they'd started the surgery, that Takoda has bone cancer, that he was so sorry, that things are never easy, and that they'd like my husband Jason and I to come in and talk about options and that he didn't want to do that over the phone. It was hard to answer and hard to listen. He was empathetic and kind and I apologized that he had to tell me such bad news. I felt empty. It was a dark and stormy summer day and rain was pouring. I took my other Husky mix and my German Shepherd for walks which soaked my clothes and drenched my hair and I didn't feel a thing. I still had to tell Jason and the thought of that cut like a knife. I didn't have to tell him, from the look on my face he guessed, and we cried. And he said "the crazy thing is, if Takoda was here she'd be comforting us". And she would have. That's the kind of dog she is. The "once-in-a-lifetime" kind that knows I'm upset before I do, who won't leave my side when I'm sick or sad or frustrated. She knows what kind of day I'm planning by the shoes I put on, what trail we're driving to by direction we leave the driveway. She's smart, intuitive, and fiesty, and she is our world.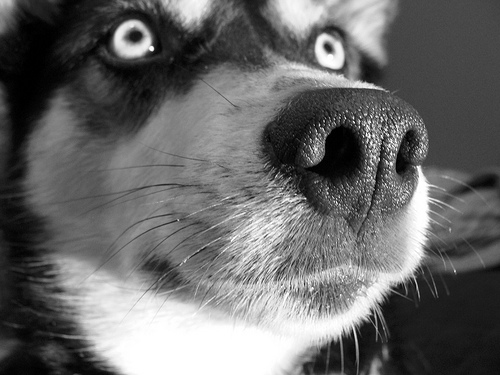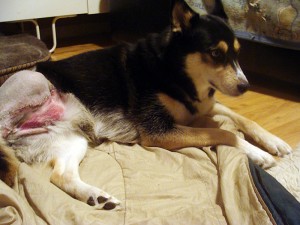 "A dog is the only thing on this earth that loves you more than she loves herself." — Josh Billings
At 4:30 that day we met with the vet. He explained chemotherapy and amputation and told us to take our time. We had decided on amputation before we'd left the vet. He told us it wasn't a cure but it would allow her to be nearly pain free in just days, and that was about all we needed to hear. He delivered the devastating and startling prediction of 4-5 months until the cancer would overtake her. We still hope to beat the odds and that months will turn into years, but at that moment a pain-free week, month, anything was something.
Takoda was groggy and her leg was stapled from the would-have-been surgery. Not wanting to miss a moment, we stopped at a little park on the way home and let her walk a little which she loved. We walked a short distance to a little creek and then carried her back to the Jeep.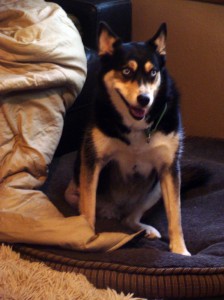 Three days later on July 22, 2010 we returned to the vet for a second surgery, Takoda's amputation. Thanks to a good dog friend, I discovered bonecancerdogs.org and Tripawds.com, both of which were a huge help in preparing for the amputation and knowing what to expect. This time I called the vet and she was doing just fine. She was awake and standing. We were able to take her home the same day. I was nervous on the way to pick her up. But once I saw her everything felt fine. She looked much brighter and better than when we'd brought her home from the previous surgery.
Takoda recovered surprisingly quickly and her wound healed without any issues! We adopted Takoda when she was about 5 months old, and she had a broken leg at the time (another chapter in Takoda's life ,read that story here>). The amputation was nothing compared with complications and time involved in healing the broken leg. Within a few days she was running and doing the stairs and she even enjoyed a brief playdate with a friend's tiny dog.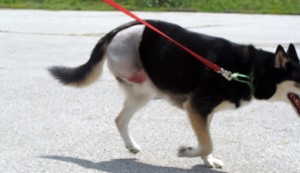 August 2nd Takoda returned to the vet and got her staples and stitches removed. The vet said she was doing great. She took a nap on her back with 3 legs up in the air. She hadn't done that in a while!
The top photos are from today about 5 weeks in and she is doing amazing. She plays with her fursiblings, runs around the backyard, takes short walks, and nearly caught a ground squirrel today!