My last post written for Takoda was on January 3rd, 2011. It always was my intention to write a final post, but just thinking about it triggered so many tears and I kept putting it off. So then every year as the anniversary of her last day rolled around I planned to write the rest of her story, and to get a memorial tattoo. But it never happened. Until … This morning I was scrolling through Facebook and to my surprise there was a photo of my beautiful Takoda, posted by Tripawds. Tripawds had featured Takoda's blog today in their blog post DIY #TripawdTuesday: Random Fun with Tripawds Blogs! What the Tripawds writer doesn't know, since I never got that last post written, is that tomorrow is the 6th anniversary of her last day. Synchronicity!
"Synchronicity is a concept, first explained by psychoanalyst Carl Jung, which holds that events are "meaningful coincidences" if they occur with no causal relationship yet seem to be meaningfully related."
When I last posted at the beginning of 2011 Takoda was doing thriving. ** Possible Tears Warning** And then, so quickly, things changed. She became weaker and her breathing labored. It became evident that the cancer that had been the reason for her leg amputation had moved to her lungs.
"In metastasis, cancer cells break away from where they first formed (primary cancer), travel through the blood or lymph system, and form new tumors (metastatic tumors) in other parts of the body. The metastatic tumor is the same type of cancer as the primary tumor."
We found out Takoda had bone cancer (Osteosarcoma) in July, 2011. She'd been misdiagnosed with a CCL tear (a common but serious knee injury), and the tumor was found by our vet when they'd opened up her leg for CCL surgery. Her leg was sewn up, we were notified of the error, and a few days later her leg was amputated instead. Not at all what we were expecting! (You can read the long version here.) At that time, the vet had estimated her post-amputation lifespan at 6 months. On January 24th, 2011 we went to the vet, concerned about her sudden decline. An x-ray revealed a golf ball sized tumor in her chest, restricting her breathing. Exactly 6 months later. The vet told us he could make a special housecall when it was time to let her go.
This devastating vet appointment happened in late afternoon that day. That evening was my father's visitation. He had cancer too. Over the past few weeks I'd been watching the disease quickly eat them alive. My dad had stomach cancer. He'd called to tell me in October. It was overwhelming. I remember my first thought was I could only handle 1 cancer and I'd already committed to my dog's. I was so distraught between my dad's death and Takoda's devastating diagnosis that I didn't make it to the funeral the next morning.
I spent the next week on the couch next to Takoda, staying up late watching movies with her. She sometimes struggled to breathe. When we took her outside to relieve herself we now had to support help her by supporting her weakening back legs. She remained a fighter and fiercely independent, much like a toddler trying to prove to you that she could do it herself. There were brief moments of serenity, like being outside late one night when the sky was so clear and the stars were so bright and I found peace in the quote:
"Only in the darkness can you see the stars." ― Martin Luther King Jr.
There were difficult moments when she walked to the far side of the back yard and sat under the tree and didn't appear to want to come back inside which wasn't typical of her and made me fear she was trying to walk away to die in the woods. 🙁 But there were also a number of silly moments, like when very happily she pulled all the stuffing out of a big blanket, and we let her and she loved it. Something she also typically didn't do. Despite her wild side she was not a destoyer of people things. She'd always been a picky eater but she never lost her appetite in her illness (maybe due to the medication?) … she really, really enjoyed bully sticks, peanut butter-filled Kongs and cheeseburgers right up until her final moments.
Takoda loved to hike and run and hunt, preferably in the woods and preferably in the snow. While walking closely on leash where you had no idea there were small rodents, to my horror she would suddenly have a small furry thing in her mouth. It was shocking and she wasn't for the weak of heart. This mostly vegetarian non-hunting bleeding heart human had to learn some of the ways of the wild to be her best friend. She thrived on taking me on long runs with a bike or a scooter. She was driven. She seemed unstoppable. Until she wasn't.
This was our last trip to the woods, on January 29th, 2011: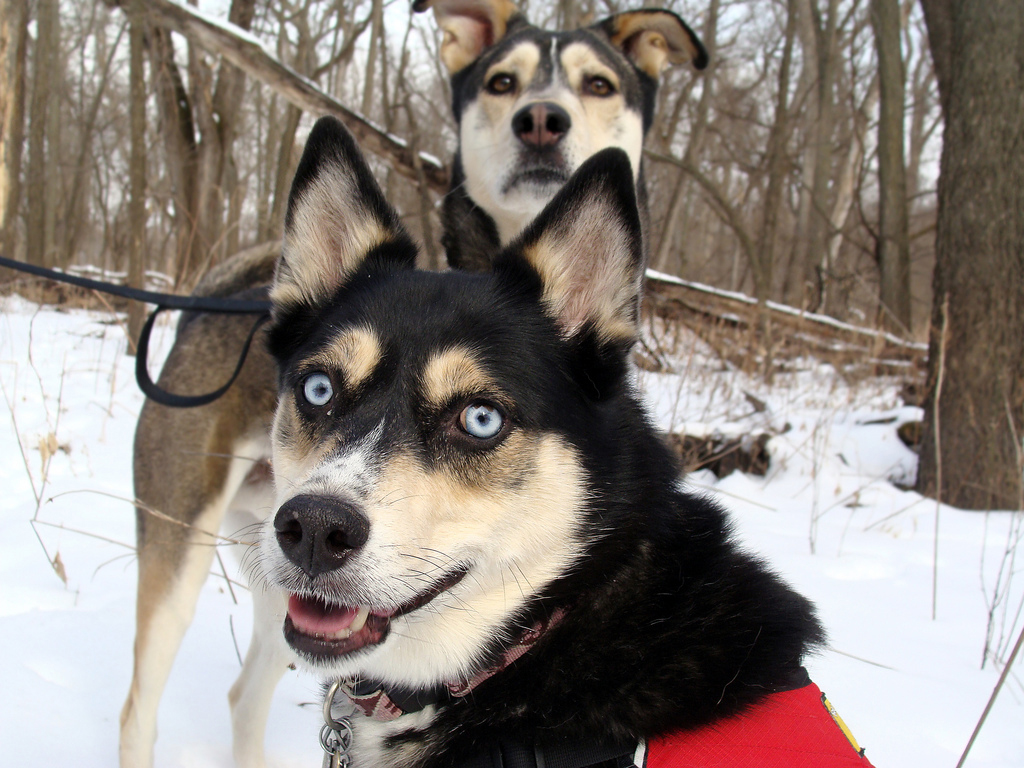 She could hardly walk and mostly we carried her. We carried her out of the woods. She never walked again. She refused to go the bathroom with help. Her breathing was increasingly labored. We had to make the dreaded call to the vet on February 1, 2011.
It snowed that day. Takoda loved snow. She laid outside while her dad shoveled the driveway. She'd never been off leash in the front yard before. So there was that! She watched the snow with a look of wonder and joy despite her physical condition.
The snow was so intense we wondered if we'd make it to the vet. But the weather made it a perfect last day for her. A snow day. On the way to the vet went through a McDonald's drive thru and bought her a cheeseburger. She ate the burger with great enthusiasm. She left the bun, and the pickle. At the vet her dad held her in the window while she continued to watch the snow with great interest. Her eyes and personality were so alive though her body was failing and she must have been in tremendous discomfort. There was still a light in her bright blue eyes and I literally watched it fade away as the vet tech relieved her from her suffering. This is something that will always replay in my head. After Takoda I had to let 2 more wonderful, special, and irreplaceable dogs (Catori and Vegas) go with the help of a vet, but remembering Takoda's final day is still the hardest. I think because with the other 2, the light was already gone from them and not much of their personality remained in their final hours.
I still miss Takoda (and Catori and Vegas) every single day.
A few things I learned from this journey:
Value every day and moment with your dogs. You never know how short life is. But at the same time, try not to think "Oh my god, my dog is 10 already!" (something I've been guilty of lately)  or "Oh my god, my dog has cancer and might die soon." Because the end is going to happen. Either to you or to them. And it's the hardest thing to do, but why shorten that time by excessively worrying?

This meme has brought me so much comfort:

 
While bone cancer and the need to amputate your one of your dog's limbs seems like the absolute worst thing that could happen, it's not. Most likely it will be harder on you than your dog. With your help, your dog can still thrive and live a great life. Takoda lived for just over 6 more months here is a possibility of your dog living for years. For us it was definitely worth the journey.
All cancer situations are different. I lost 2 more dogs to cancer. Catori, just 10 months after Takoda and Vegas the following year. Vegas's cancer was Hemangiosarcoma (a form of malignant cancer that arises from the cells that line blood vessels of various tissues of the body.) His cancer also started with limping and we found a tiny bump on his leg that was removed and found to be malignant. His pain quickly exceeded what drugs could subdue and we had to let him go a few weeks later. He was a 110 pound German Shepherd Mix and almost 11 years old. Catori, another husky mix and pictured above with Takoda, had struggled with a variety of health issues since puppyhood, due to an autoimmune disorder. He was already being treated for high liver levels when suddenly he became very, very sick one day. The next day we got an ultrasound and found out his liver was covered in tumors. They gave us the option of taking him home with a bag of meds to keep him comfortable. We took him home but it was too late and our time was short. He was only 8. He loved Takoda and even though I tried to give him extra love and fun adventures I felt like losing her really affected him.
If your are treating your dog's CCL/ACL tear (knee injury) conservatively prior to or rather than having TPLO/TTA surgery, and while exercising patience, rest and sticking to a strict regime, and giving your dog quality join supplements your dog shows no improvement after a month or two, and/or their pain or non-usage of the leg increases, there's some chance there is something happening beyond a ligament issue (even if your vet doesn't think so). This was our experience with Takoda, and I've known one other dog with the same scenario and read of others. This became even more clear to me when my Chow/German Shepherd mix Loki actually tore her CCL a year ago, and then the other leg 7 months later. Now at 10 1/2 years old she has fully recovered (without surgery) and runs and plays like a typical middle-aged dog. During her healing she progressed slowly but regularly and now seems to be 95%+ healed. Something to consider.
The Tripawds community is wonderful and their members are there if you need compassion or support. Even 6 years later!
Now I just need to get that memorial tattoo!
Takoda's Life video montage (I still can't watch it):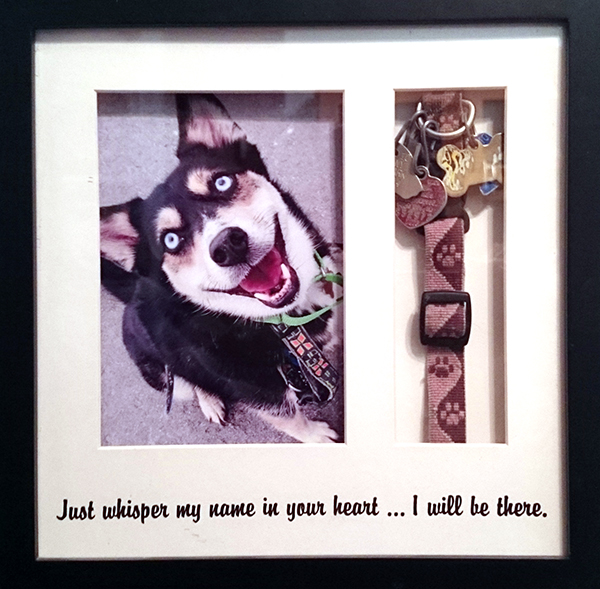 Takoda's memorial frame with her collar