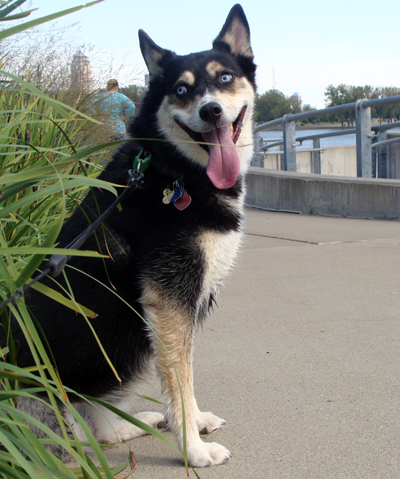 One of my favorite places to walk dogs is a park called Gray's Lake. We love the beautiful walking trail, beaches, and people enjoying outdoor activities from sailing to yoga to rollerblading. Of course we also love all the adorable dogs taking their owners for walkies and playing in the water.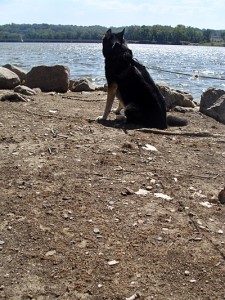 I have been there this summer with my other pups, but sadly Takoda had not been able to go since the beginning of Spring. Normally we walk the 2-mile loop once or twice and stop for swimming, dog greetings, and fishy hunting in the rocks on the shore. This time we just walked along the water for probably a quarter mile and then took a rest and got a drink and relaxed. We walked back along the rocky shore where Takoda likes to search for dead fish (ewww, I know!). She had a little difficulty figuring out how to maneuver but I let her try and she did well. Then she splashed around on the sandy beach. Takoda met a ball-crazy lab, a weimeraner with a pretty pink color, and a Basset Hound who roo-rooed at her until he finally got to say hi.
We haven't been out in busy places much yet so it was interesting to hear people's comments. I heard a few "oh poor dog" exclamations, a few people said "it looks like she gets around really welll!", and one couple ran up to ask what happened to her. But most people didn't seem to notice!
Although we didn't cover much ground compared to our old walks, Takoda was pretty exhausted afterward. I am still working on trying to find a balance between doing everything she wants to do and not doing too much. This was just the beginning of many more adventures as we slowly get back to doing the things we used to do!